ARRL Board of Directors Announces Award Winners
NEWINGTON, CT, Jul 26, 2001--The ARRL Board of Directors has announced the winners of several awards. The recipients were approved during the Board's summer meeting July 20-21 in Rocky Hill, Connecticut.
Excellence in Recruitment Award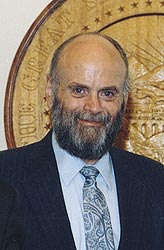 Dick Flanagan, W6OLD
Dick Flanagan, W6OLD, of Minden, Nevada, is the 2000 Excellence in Recruitment Award winner. An ARRL Assistant Section Manager, Flanagan uses many different methods of recruitment for Amateur Radio classes. In one case, a press release to a local newspaper led to an article in a major regional newspaper. In addition, his ham radio posters are colorful, creative and to the point.
With more people becoming Internet-dependent, one of his ways to recruit students is through the Carson Valley Radio Club's Web site. Flanagan is the CVRC Webmaster. From the Web site, individuals, whether newly interested or experienced ham, can find out the latest information on classes, VE sessions, current events, and the ARRL. Flanagan, who helped found the CVRC, also edits the club newsletter.
Flanagan also has had success recruiting new hams through the Carson Valley Radio Club's reflector as well as on regional and local e-mail reflectors. Through these reflectors, hams and potential licensees can keep abreast of urgent or timely news and events.
"What continues to make Dick stand out is his very infectious love of Amateur Radio, of helping others," said a statement from the Carson Valley Radio Club. "He works diligently and hard for the interests and welfare of the amateur community locally and at large. Some may always want recognition or something in return. Dick's greatest gift is to see the success and enjoyment others get from amateur radio."
The Carson Valley Radio Club of Minden, Nevada, is the cosponsor of the 2000 ARRL Excellence in Recruiting Award.
---
Page last modified: 02:28 PM, 27 Jul 2001 ET
Page author:
awextra@arrl.org

Copyright © 2001, American Radio Relay League, Inc. All Rights Reserved.
---