Memorial Day
Antenna Party Preparation
Dick K7VC and Bob KI7GN at the base of the 72 foot (22.0 m.) US Tower HDX-572MDPL discuss the best way to approach the project.

With Dick having injured his hand the previous day, a lot of the high work will fall on Bob's shoulders.

The tower footing is 7 feet (2.1 m.) square and 9 feet (2.8 m.) deep. That works out to over 16 cubic yards (12.2 cu. m.) of reinforced concrete!
The starting point!

16 feet 10 inches (5.1 m.) of chromoly steel mast extending from the top of the tower. After deducting for the owl, approximately 16 feet (4.9 m.) of mast remain to be populated.

The coil of coax at the base of the mast is for the 6 meter yagi. It will be connected after the antenna is installed.

Bob KI7GN double-checks the massive M2 Orion 2800P rotor-to-mast clamp before proceeding.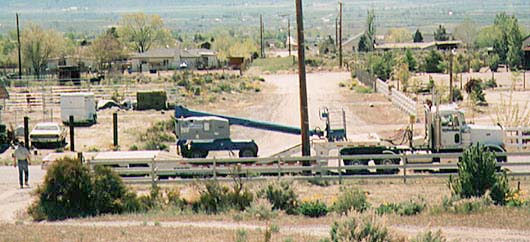 Dick K7VC walks down the front driveway to greet the arrival of the most valuable piece of equipment to be used during the project, the 40-foot (12.2 m.) Genie telescoping boomlift obtained for the weekend from the local US Rentals.
Dick K7VC comes in through the back gate and maneuvers the boomlift into position next to the tower.
Bob KI7GN, Lift Jockey Extraordinaire, takes a bow as we get ready to lift the first antenna.
"Helpers! Man your stations!"

Dick K7VC, Chuck NX6W, Don W7CDF, Dick KJ7UK and Duncan WA6RRU (off camera).

Oh, yes, Juneau (SK) and YL (SK), the two Siberian Huskies.
Go to Installation Page.
Go to Results Page.

Go back to Antennas Page.
Go back to Home Page.

Copyright © 1998, 1999, 2001 Dick Flanagan K7VC. All rights reserved. Updated May 3, 2001